Bail Bonds for Trespassing Charges in DFW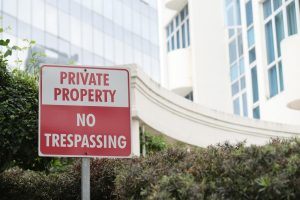 In the state of Texas, trespassing and vandalism charges can range from a Class A Misdemeanor up to a full-fledged felony in the Dallas–Fort Worth (DFW) area. Regardless of the initial charges, there are many reasons to bail out of jail instead of waiting to see the judge or waiting for an upcoming court date.
Here at A Way Out Bail Bonds, we can help get you or someone you care about back home fast so the case can be handled in the free world. Let's discuss a bit about what trespassing and vandalism charges in DWF entail and the possible repercussions.
Bonds for Trespassing Charges in DFW
Trespassing charges are somewhat more complex in Texas, as there can be a bit more to this violation than simply being on someone else's land. Under Texas Penal Code 30.05, trespassing is entering someone else's property without the owner's permission.
This can be intentional or unintentional, but trespassing charges can be brought about if one is caught on a property that has some kind of indication that the land is private. Breaching fencing, walls, or any structure that indicates a property's boundaries can constitute criminal trespass. However, there are cases where an unintentional violation can be defended in court.
Another form of trespassing is when an individual remains on another's property after they've received a notification to depart. Once an issue is given by a representative of an owner or the owner personally, trespassing charges can be filed that can cause the violator to find themselves behind bars.
Criminal trespass is most often a Class B misdemeanor and has a fine up to $2,000 with a possible jail term of up to 180 days. Should the violation occur on agricultural land, the offense is a Class C misdemeanor that has a fine up to $500. If a deadly weapon is on the violator's person, this could equate to a Class A misdemeanor with a fine up to $4,000 and a one-year jail term.
Understanding Vandalism Charges
Vandalism is the act of damaging someone's property and is generally referred to as criminal mischief in Texas. The most common forms of vandalism include acts such as:
Damage to mailboxes
Graffiti on public or private property
Slashing car tires
Keying or defacing an automobile
Breaking windows
Damaging or destroying a home or public or commercial property
Most vandalism cases are charged as misdemeanors, but should the property damage exceed $2,500, the case could be deemed a felony. While the nature of the specific crime may differ under this charge, the class and the fines for vandalism themselves may differ.
The sentences specifically depend on the amount of damage caused by the crime itself. As the cost of the damage increases, so does the severity of the crime. In quite a few cases, once you get bonded out by one of our DFW bondsmen, you or a legal representative can get the charges dismissed upon making a restitution agreement.
Get Out of Jail Fast With A Way Out Bail Bonds
Our licensed bail bond teams at A Way Out Bail Bonds are eager to provide fast service to get things rolling for your release after a trespassing or vandalism charge in DFW. You can call on behalf of yourself or another person being incarcerated to secure a bond for release 24/7. Reach out by phone or online to find out more.