Bail Bond Forms
Paperwork for Bail in Dallas County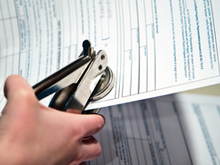 When you or a loved one is arrested, our Dallas TX bail bond company knows that fast action is your top priority. For fast jail release in Dallas or Tarrant counties, licensed bail bond agents will answer your call 24 hours a day, seven days a week. Even if you have never bailed anyone out of jail, A Way Out Bail Bonds offers expert, caring personal attention that simplifies the entire bail-out process. In many cases, we meet you at the jail  to bail you out in just 30 minutes!
Our bail bond service offers 24/7 response, online and phone contact, mobile bond service (call for restrictions/details), flexible payment options and even accepts payment at the jail.
To help speed the bail bond process further, we invite you begin filling in some of the paperwork you will need to secure a release from any jail in Dallas/Fort Worth. Just call us to request any of the forms listed below.
Bail Forms
For fast, professional bail bonds in Dallas and surrounding communities in Texas, contact us online. Call our licensed bail bond agents in Dallas County at (214) 760-9978 or in Tarrant County at (817) 261-2828.